In any legal matter, it is imperative that you find out all you can about your rights and legal options. We are here to help you in Appleton, Oshkosh, Neenah, Menasha and Green Bay. The P&D team serves all of Northeast Wisconsin.  With a wealth of experience, our seasoned attorneys offer effective representation and advice in a variety of practice areas, including:
Family Law
Divorce
Child Custody & Child Support
Adoption
Guardianship/TPR/CHIPS
Criminal Defense
Drunk Driving
Sexual Assault
Drug Offenses
Battery & Domestic Violence
…and more.
Our team has helped countless individuals in their most pressing cases, and we can help you. Licensed to provide service throughout Wisconsin, Petit & Dommershausen, SC is your source for quality legal services. We want to gain the outcome you seek. Contact us today for a consultation.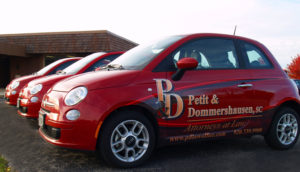 Choosing an attorney can be difficult.  Our law firm can serve you and all your legal needs.  Our highly skilled team of lawyers have a strong base of experience, training, and legal knowledge to help you.  Our talented staff will also be available to assist you as the P&D legal team helps you navigate the legal process. Call us today at 920-739-9900.