Petit & Dommershausen, SC's team of experts and family lawyers are adept at breaking down the strengths and weaknesses of every case, no matter how detailed or complicated it becomes. We'll be sure to fully analyze your situation before offering you appropriate recommendations for your next step.
Family Law Services:
Divorce Tips
Seek proper legal representation (i.e., retain a local attorney who specializes in divorce or family law).
Follow your attorney's advice.
Discuss your divorce problems with your attorney only — not with others, although they may inquire. Friends and relatives may have good intentions, but their advice may be inaccurate even when based upon their personal experiences. Circumstances in their cases may be far different from those in your case or the laws may have changed since their divorce. It is like using another person's eyeglasses; they rarely fit properly.
Follow the court orders exactly. If you have custody of your child(ren) and your spouse has placement rights, have your child(ren) dressed and ready for your spouse at arranged times.
Do not alienate the child(ren) from your spouse. That is the most trying thing for children. Do not discuss your marital problems with them. They should not feel a necessity to side with either parent. Children should love both parents. Anything you can do to make a shared placement arrangement more pleasant is for their benefit. Do not use the occasion for conflict.
Do not involve yourself in domestic disputes. Do not touch, push, hit or threaten your spouse. If you cannot control your temper, take timeouts and stay away from him or her. If the police are called, it is likely that one of you will be handcuffed and taken to jail.
Try to protect your credit. Contact the three credit bureaus and ask them not to allow any credit to be issued in your name. They will often put a flag on your account so that your spouse cannot take out additional credit that you are unaware of.
For information on legal terms and jargon, please reference our glossary.
Interested in more information for parents during very difficult times?  Please visit UpToParents an organization designed to show separated and divorced parents how to build their better futures by focusing on meeting their children's needs.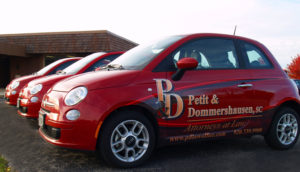 Appleton Family Lawyers | Oshkosh Family Lawyers | Wisconsin Family Lawyers